Story Time, Behind the Scenes of Designing KPM Industries
Best Interior Design Company Halifax
,
Commercial Interior Design Company Vancouver
,
Corporate Interior Design Company Vancouver
,
Corporate Interior Design Firm Toronto
,
Interior Design Firm Halifax
,
Interior Design Firm Vancouver
,
Interior Design Services Halifax
,
Office Interior Design Firm Vancouver
,
Office Interior Designer Firm Vancouver
,
Office Space Design Company Vancouver
,
Professional Interior Decorator Halifax
,
Registered Interior Designer Vancouver
,
Top Interior Design Firm Vancouver
,
Top Interior Design Services Halifax
,
Top Interior Design Services Toronto
,
Top Interior Design Services Vancouver
,
Workplace Interior Designer Vancouver
A giant leap revolutionizing a private office into an open work environment for a family-oriented packaged materials company. This change was to harbor a much-needed interaction and accessibility among the directors and employees. Creative pockets and impromptu meeting areas were implemented to support this connection.
The 15,000 SF flex building was compiled of cold concrete, stark white walls and 16-foot open ceilings. Through harmonious design and architecture, this space was transformed into an inviting workplace, reflecting their core values through a residential esthetic.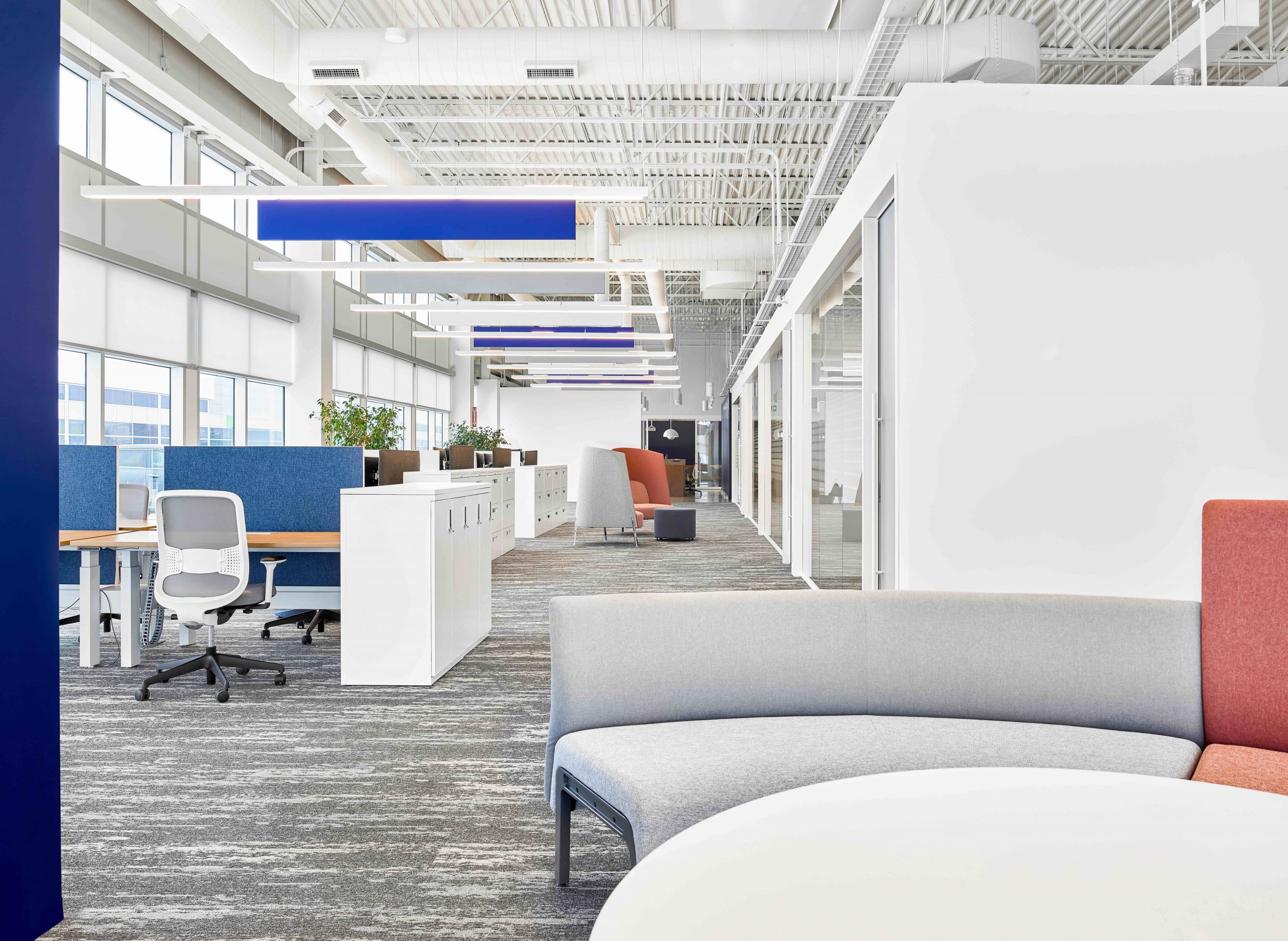 Conducting workshops, visioning and data gathering sessions were an integral part of the design evolution that gave insight to develop what the key design drivers would be, accessibility and collaboration. It was crucial that all of the partners involved in this project were on the same page and ensured flawless communication throughout. This allowed for the final creation of the holistic office space that was desired.
Keeping the perimeter clear provided an unobstructed view of the surrounding nature and allowed natural daylight to engulf the space, which prompted the design to mature into this bright open concept space. Low-profile furniture was selected to ensure visibility and sightlines were kept throughout the space, eliminating hierarchies within the office and allowed for this approachable and accessible office.
Working with a blank slate, and having a flex building, gave an endless amount of opportunity to create more than just your typical office space. This design build project was an interconnected team of moving parts. The overall solution required a problem-solving process, and a holistic design approach. Starting from the pouring of the concrete floor up, meant the design approach needed to be innovative. Implementing careful strategies were required in order to stay within the client's budget while designing an environment that employees would look forward to working in. The Client's authentic family connection inspired the team-based approach to the design solution. This in turn was led by the Client's core values: integrity, respect, excellence, courage, openness and honesty.
The offices and meeting rooms were designed with glass walls to maintain an open feel throughout the entirety of the office. Having them centrally located with workstations, pause areas, and collaborative pockets would allow the remaining area to remain exposed to the building's natural surroundings, filling the space with daylight. This layout enables the staff members to communicate effortlessly and collaborate seamlessly.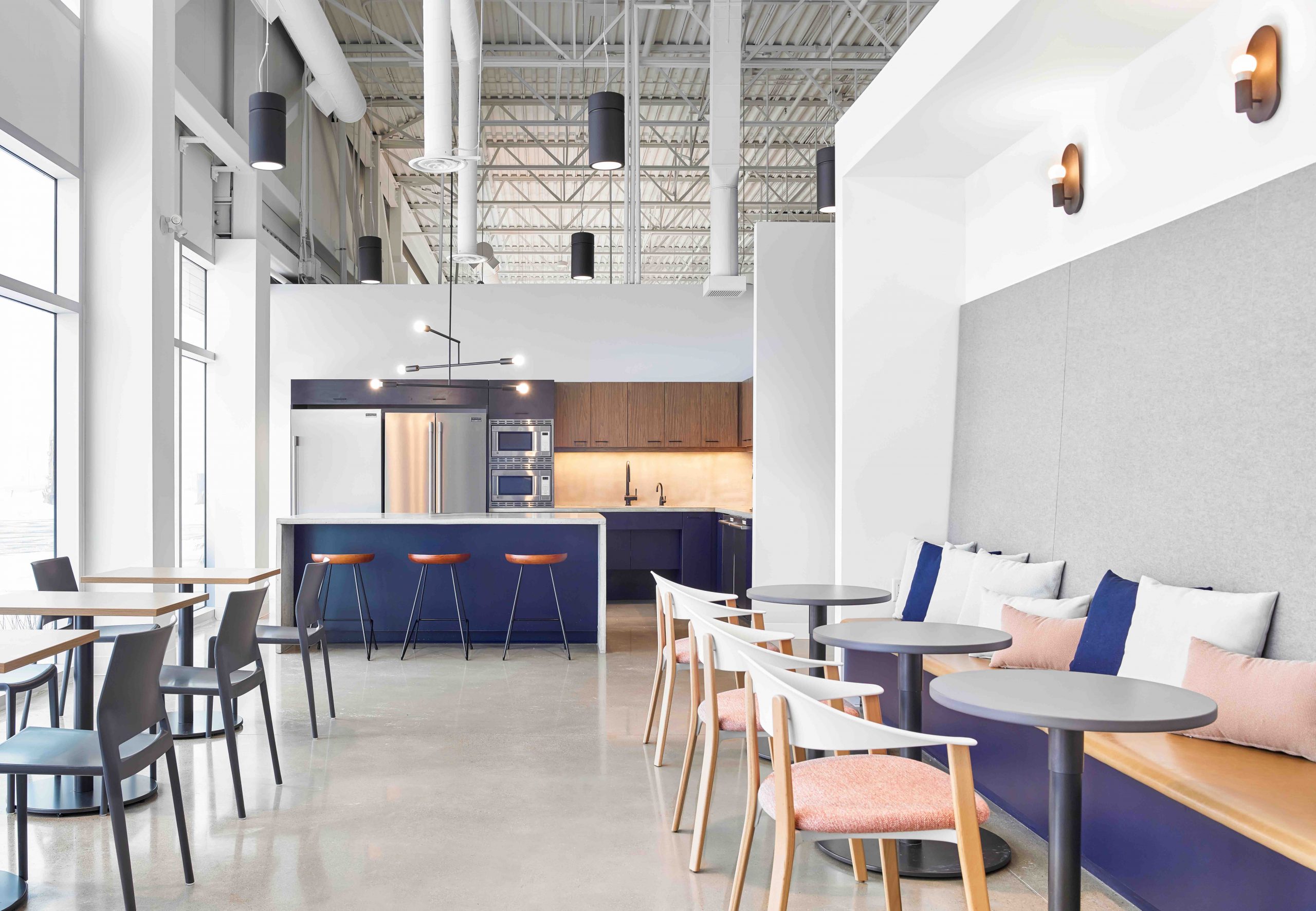 A harmonious blend between raw elements of earth, minerals and sediment, this concrete company paired more refined details to represent their welcoming culture. Electric Blue paint, inspired by their corporate colours, was incorporated into various accents throughout the office: from the large blue wall in the reception to the blue baffles suspended from the ceiling, every element in this space represents the Clients brand. This large-scale building covered in glazing was brought to life with white details, custom concrete countertops and warm toned woods to create a unified space.