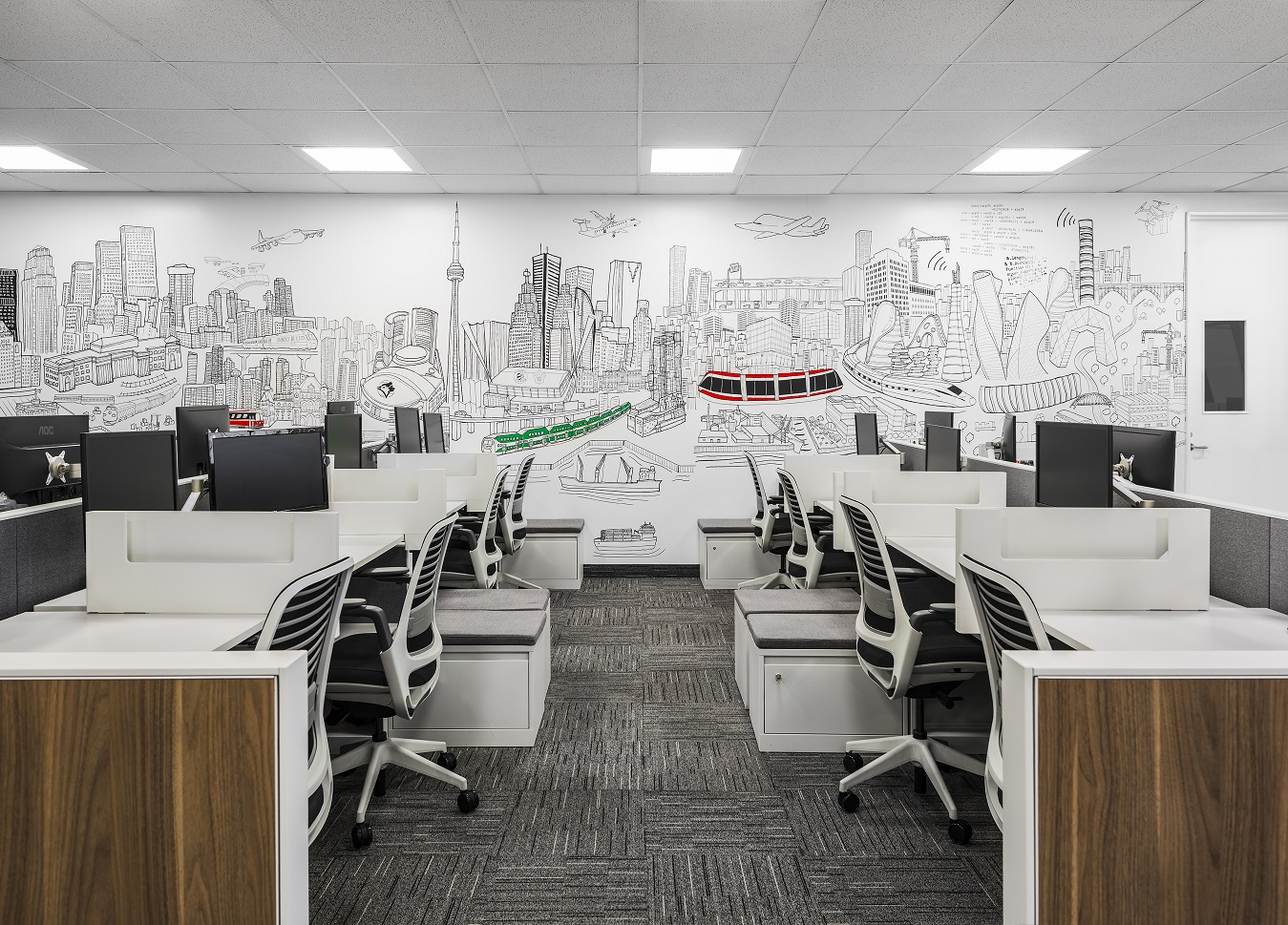 How Art Can Elevate a Workplace
SGH has proudly worked with several local artists to create unique, and creative murals and centerpieces for the companies we work with. Art can create a major impact in the workplace. It is a great way to express the company's values, promote a creative environment, and many believe art in the workplace can boost employees' productivity levels.
SGH has worked with many local artists with the goal of creating something unforgettable, that incorporates and expresses your company's culture, values, and history.
Toronto Board of Trade, Toronto, ON
SGH worked with the Toronto Regional Board of Trade and local artist, David Rotsztain, to create a large mural of the city. The mural spans from the far left to right and illustrates Toronto's past, present, and future.
The mural starts on the left showcasing old Toronto, it slowly builds to the right incorporating buildings like the CN Tower and the Rogers center, and as you approach the right side of the piece futuristic inspired towers, new forms of transit, and even a delivery drone are showcased.
This mural shows the history of this beautiful city and the goals to work towards.
FINANCIAL CLIENT, NANAIMO, BC
This financial client based in Nanaimo, British Columbia needed a space that would accommodate two different departments. One side of the space would be for the call center, the other would host as a quiet but still open workspace for the finance and accounting department.
The two user groups are buffered from each other through the creation of "collaboration avenues" which are defined by a change in flooring and a dropped wood slat ceiling feature to create refuge and visual breaks in between the open spaces. Fresh accent colors of spring green and ocean blues infuse a calming atmosphere in this open, bright, and modern space.
Large walls throughout the workstations and lunch area/café provide the introduction of art selected specifically to represent Nanaimo, British Columbia, and the rich indigenous community that the offices are located within.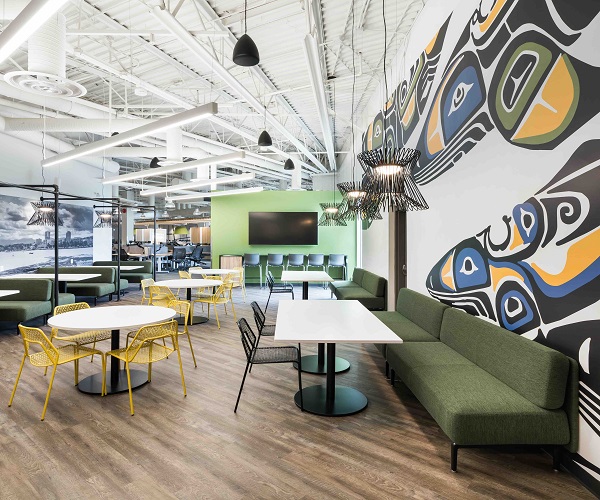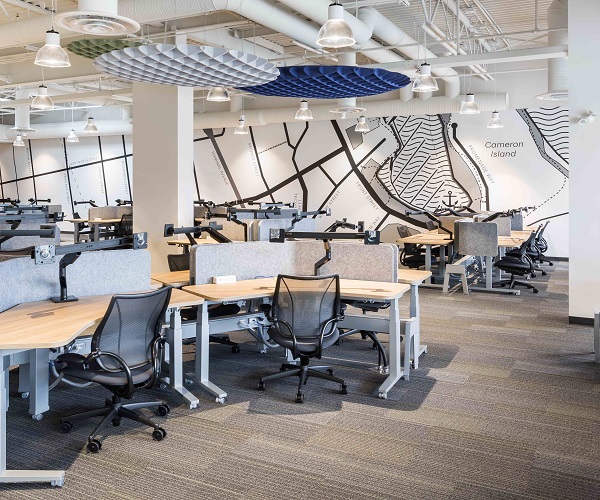 MCCAIN FOODS, TORONTO, ON
We all recognize the name McCain Foods, but what are some things that come to mind when we say their name? Potatoes are one of them. SGH worked with McCain to create a workspace that would support and promote their corporate values and culture.
At the heart of the McCains, Toronto office is an open concept interconnected stair. To utilize this space an artistic centerpiece representing their roots, company culture, and history was designed. The centerpiece is a long spiraling structure meant to represent a piece of peeled potato skin. The inner layer of the structure is layered with images about the company's history, the original owners, employees, and brand. It represents those who built the company into what it is today and is a unique piece just for McCain.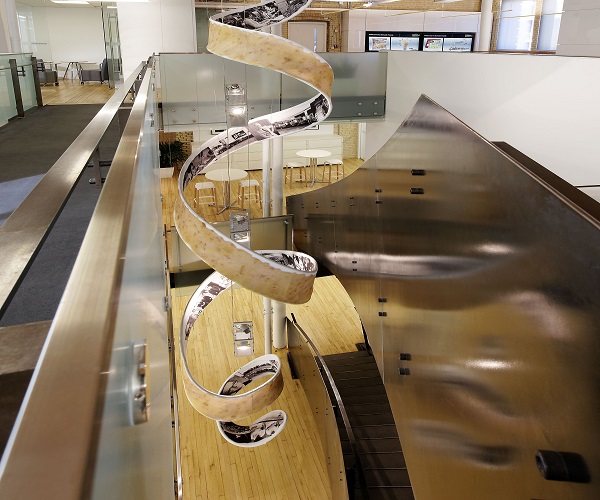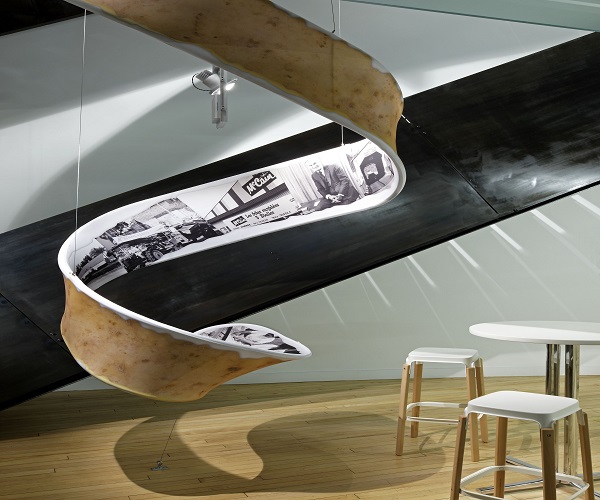 The artwork has made a major impact for each of these companies in representing their culture, values, history and where they look to go in their future. Integrating these custom designs from local artists with the values and culture of each company creates something incredible. At SGH we believe this combination builds something truly amazing and something that each company is proud to call its own.
IPSOS, TORONTO, ON
SGH Design Partners was retained by Ipsos in 2019, as a consulting role. During the early stages, SGH helped Ipsos contemplate relocating to a new office space or staying and renovating their current location to better suit their desire for a more collaborative work environment. After extensive evaluation, the decision was made to renovate their current space.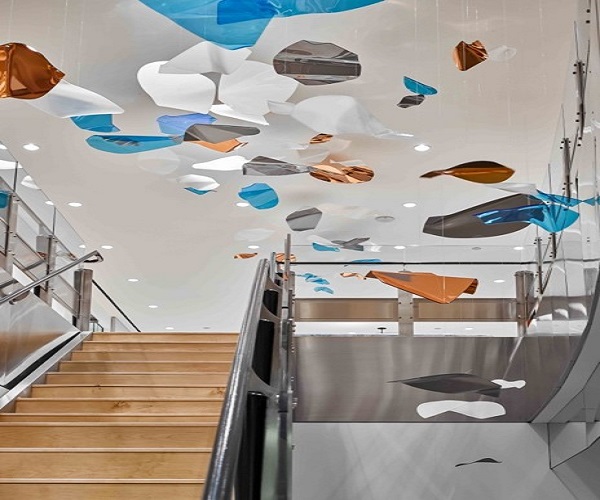 Inspiration can come in many forms and continuing to be inspired in new ways ensures the spaces we create for clients are unique and on the leading edge of design. As you can see above, Ipsos included a large-scale "leaf" installation designed by Cynthia Colby over their interconnecting stair with the goal of unifying the two floors and providing subtle references to their brand origin.
SGH designed a new space that encourages collaboration. Renovating the reception area, a cafe has been incorporated to foster connection among the teams. The office transitioned from a closed perimeter office space to a benching system. Their new space is a state-of-the-art workplace that met their budget and exceeded their expectations.
It is important for our studio to ensure that we are seeking inspiration not just from what has been done, but from abstract sources that drive design innovation.